The Return of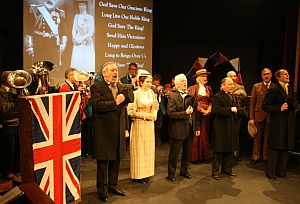 THE DAM PLAY

[click on highlit text for further details]
words & music by Nevin Ward

directed by Christine & Nevin Ward

20-24 January & 3-8 February 2009
The story of Nidderdale's Reservoirs once again proved to be big hit with the public, playing for another sell-out 11-night run.

Cast & Crew (coming soon)

Review from the Pateley Bridge & Nidderdale Herald 20 February 2009 with Feedback and Photographs
Review from the Harrogate Advertiser 30 January 2009
Pateley Bridge & Nidderdale Herald article 2 January 2009

Details of The Dam Play 2009 DVD
Further details of the first presentation in 2007 can be found by clicking this link: THE DAM PLAY 2007
Tickets for this run sold out in record time, and the question we were asked time and time again was:
Why can't you put on more performances?
and here's the answer! - we are an amateur company, and many of us hold down full time jobs.
Staging a play is a major committment of time and effort, especially a production as demanding as The Dam Play, or one of our ever-popular pantomimes - it requires a huge committment from a large number of people, and long runs are simply not possible given the other demands made on our cast.

We do apologise to anyone who has been disappointed, and can only say in our defence that we tried to warn people of the need to be at the Playhouse the day booking opened; we believe that everyone who turned up, or who phoned up later in the afternoon, was able to get seats.
The good news is that the 2009 performance was professionally filmed and edited, and a DVD of The Dam Play is now available - click here to order a copy.