The Dam Play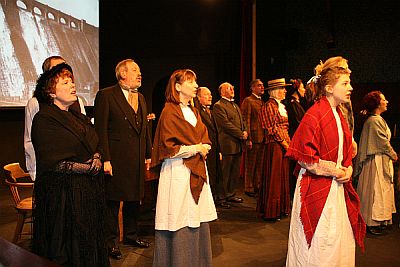 Pateley Bridge Playhouse
Why would a play about the building of two large dams in Nidderdale be interesting? It's all about curiosity. 'How did they do that?' Or perhaps 'why did they do that?' They're questions we've all asked while standing at the foot of some baffling feat of engineering, and they've always occurred to me while standing on Scar House reservoir's dam near Pateley Bridge. The dam stretches away for a third of a mile and holds back a body of water that was once the deepest reservoir in Europe. Everything about Scar is astonishing, from having its own railway line to building the dam wall from stone and concrete, when everyone else was building theirs with earth and clay. However you look at it, it's a monumental piece of work.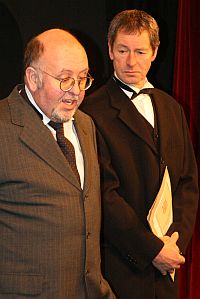 It's fitting that the story behind it is also pretty monumental. The questions of 'how' and 'why' Nidderdale's huge reservoirs were built are the central pillars to Nevin Ward's 'The Dam Play', which returned to Pateley Bridge Playhouse due to popular demand for ten sold-out performances. Over an entertaining evening, the Pateley Bridge Dramatic Society set about answering those questions, and plenty of others along the way. Did you know the standard gauge railway line in England gets its dimensions from the width of two horses' backsides? Me neither.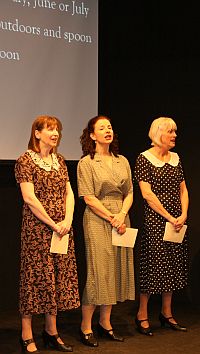 Far from being a dry (no pun intended) tour through the facts and figures, the Dam Play is an engaging dash from 1884 to 1936 – the time it took to plan and build the Dams. On the way visionary Bradford aldermen wrack their (often hungover) brains as they wrestle with the logistics of getting materials 11 miles up a dale with no road; they ponder how to get sufficient beer to the workmen, while the workmen slog and brawl and build; they fight the First World War and pick up where they left off; all mixed with songs, flag waving, and even a chance for the audience to sing 'God Save the King'. You don't get to shout 'hurrah!' often enough at the theatre, I think, so it's good to see someone redressing the balance.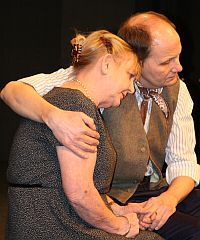 At its core the story of Nidderdale's dams is a human one, and this is where the play is strongest. The first half of the performance sees why Bradford Water Corporation saw fit to dig some big holes in a valley many miles away, but the second half is where the human interest lies. Scar was built by a workforce living in a self-contained village on the shores of the reservoir. It was purpose-built, with shops, a church, even a cinema, and the workers and their families lived there throughout the construction. Tales of real-life events from former residents sketch a remarkable portrait of the place, encompassing the comedy of mischievous children to the tragedy of hapless workmen killed on the site. It's performed with real honesty, and backed up by photos, rollicking songs from tough navvies and pained laments for a time now past, it's a vivid history lesson.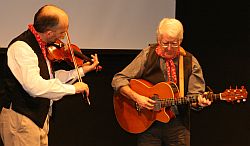 To visit Scar reservoir and stand on the dam wall is to witness the conclusion of a remarkable story. With splendid original music and a heartfelt performance from the solid ensemble cast, 'The Dam Play' brings that story powerfully to life. The building of Nidderdale's dams is interesting because of the human lives that were lived in the process, with all their triumphs and tragedies. And it's good to know about the horses' backsides, too.
Russell Thorne
[this review appeared in the Pateley Bridge & Nidderdale Herald 20.2.2009]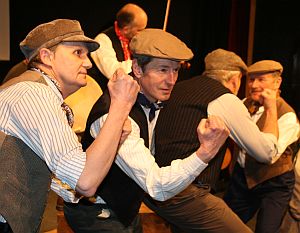 Photographs by Katrina Brayshaw

---
Feedback for The Dam Play 2009
In all my years of theatre-going, that's the best production I've ever see on any stage - amateur or professional - anywhere.
A magnificent theatrical experience!
Thank you for one of the most rivetting evenings at the theatre we have ever experienced. The story and its telling were enthralling and brought alive the time and times of the creation of Nidderdale's reservoirs. Thank you to everyone involved in the production for giving us, our guests and the nightly capacity audiences such a moving experience; it was a damned excellent play!
Even better than last time!


I came to last night's production and thought it wonderful. I am still thinking of the content - facts & figures delivered in an interesting and often amusing way - I will never forget the width of a railway! The memory section truly moved me and like many others I shed a tear. Well done for the music, costumes, performances, back stage - to everyone and anyone who played a part in this truly remarkable vision.

It was 105 miles each way but still worth every one of them!


Congratulations! I saw The Dam Play last night, and thought it was a masterpiece. The research alone was an awesome achievement – but to convey so much detail in such an entertaining format was utterly brilliant. As a concept, it worked on so many levels – and, of course, your cast did you proud.
Difficult to write this without sounding over-effusive, but it was a real privilege to be there.
Congratulations, and thanks for a memorable evening.
Fabulous!
I was so very impressed with the play, the songs and entire production when I came with friends on the first night. It will be a hard few week for you all, but well worth it, giving the audience so much fun and enjoyment.
An epic! - it was splendid, we enjoyed all of it – moving, funny and instructive.


I'm a regular at (deleted) Theatre, and this was far superior to anything I've ever seen there.
...delightfully entertaining and educational. To conceive, design, create, engineer and make that performance was as clever as supplying that water. I wish you well with your run.
Absolutely Brilliant!
Congratulations on the excellent production of The Dam Play last Tuesday. We saw it the first time round, but thought this performance even better. Thank you for all your efforts. The whole evening was full of enjoyment – what a great cast!
Fantastic! - you've done the Dale proud.
We feel we must write to your Society to express the truly great and joyous experience which you provided us in the magnificent performance of "The Dam Play" which we attended last night.
The revealing performances, both in words and music, exhibited and exposed the characters and worthy qualities of each person or groups involved in the forty year period covered by the historical re-enactment on stage.
Thank you again for a memorable evening.
Really enjoyed the play – fantastic!
How wonderful - how professional!
Worthy of a London production.
I was blown away by The Dam Play!
Something Pateley Theatre should be proud of
---
"They came from all ower to build Scar", and they came from all ower especially to watch The Dam Play, including:
Harrogate, Ripon, Masham, Bradford, Thirsk, Whitby, Middlesborough, Wakefield, Helmsely, Pontefract, Kendal, Newcastle, Melton Mowbray, Anglesey, Gloucester, Herefordshire, London, Hanover, Spain...