Join PBDS!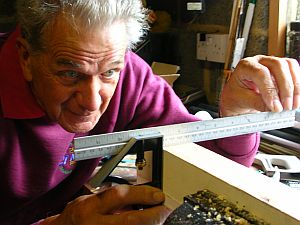 The Playhouse is a delightful place to be, whether you're watching a play, on stage performing, providing back stage support, or meeting the public front of house.
Because we own and support our own theatre, we can make use of many skills, amongst them:
Acting
Administration
Backstage Crew
Bar Staff & Refreshments
Costume Design

Directing
Carpentry/Joinery
Electrical
Front of House/Ushering
Graphic Design
Health & Safety
Music

Painting
Photography (stills & video)

Prop acquistion and manufacture
Publicity (including website maintenance)
Set Building
Seamstress/Needlework
Singing

Writing
It also helps if you can make a good cup of tea
If you would like to learn more about membership, please get in touch via the Contact Us link - we'll be happy to tell you more.
[The photograph of Stage Manager Derek Howard at work in The Playhouse was awarded the Richmond Trophy for the Best Photographic Exhibit at the 2007 Nidderdale Show]