FILM NIGHT AT The PLAYHOUSE
Friday 28th August 7.30pm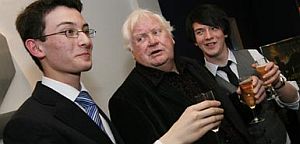 Ben Derrick Ken Russell Timothy Reynard
A CONVENIENT TRUTH FOUR TIMES

a film by Ben Derrick a film by Timothy Reynard



The latest releases from Nidderdale's talented 17-year-old film-makers - described by veteran director Ken Russell as "the future of British film" - were shown in Pateley Bridge for one night only, having been premiered at the Odeon, Harrogate, earlier this year.
"A Convenient Truth" is an action packed drama which sees a student and a secret agent team up to unmask covert and potentially damaging government secret stored on a CD-rom.
"Four Times" is a nail-biting thriller which tells the story of a young man who takes revenge on his former lovers by playing Russian Roulette with their lives.
Both films are packed with style, pace and atmosphere.
Ben gave us a fascinating insight into the life of a young film-maker (Tim unfortunately couldn't be present) including his recent trip to Hollywood, and then answered questions from the audience after the viewing.