GOUTHWAITE HALL




written by Nevin Ward




directed by

Christine & Nevin Ward
Tuesday 3rd November - Saturday 7th November 2009 at 7.30pm

Matinee Saturday 7th November at 2.30pm
Nevin Ward's second play about Nidderdale's rich history was another hit with the public. Darker than The Dam Play, it explored a fascinating and colourful incident in our Dale's past. Such was its popularity that we plan to repeat it in 2011.
---
"Congratulations on bringing a rich but seldom explored part of the area's history to life, and for portraying it so well - I was highly impressed by the whole performance. "
Sir Thomas Ingilby, descendant of Sir William Ingilby

---
"We did enjoy the play - the acting was of a very high standard"
David Yorke, descendant of Sir John Yorke
---
"That was really stunning....a beautifully subtle, nuanced drama....so clever.

Well done – and done well!"
Dr Joanna Moody, author of 'The Private Life of an Elizabethan Lady'
---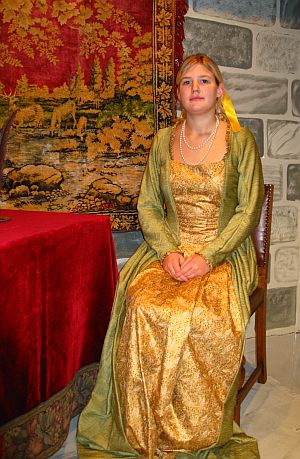 Zoe Buller as Lady Ann Ingilby