FUTURE PRODUCTIONS
We are pleased to announce that our next production will be Who'd Have Thought It by Keith Burton. This hilarious play is back by popular demand after a hugely successful run three years ago. See here for reviews and photos of the previous production.
This play has been extensively revised and honed for this new run with added effects and material and promises to be even more fun than the last time.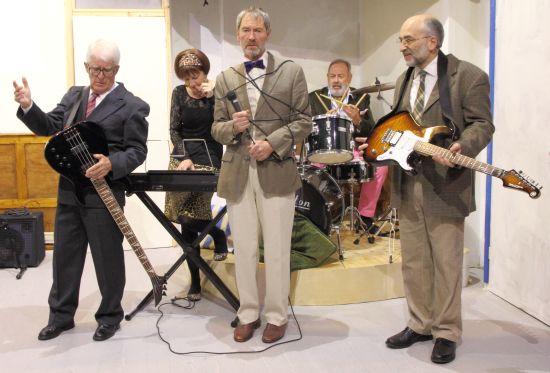 For those not in the know.....

The trustees of Felliscombe Museum are set to take a conference call in the local church hall in a last-ditch attempt to get a grant to save their fire-damaged museum. But an argument with the Caretaker leaves their hopes in ruins in a ghastly 'open-mic' moment. Moreover, behind the scenes it seems that someone doesn't want the museum to survive. When a remorseful Caretaker is led to believe that the trustees also play together as a pop group, she offers them a way out – £10,000 to pass themselves off as her Dad's defunct tribute band at a reunion event. Watch, as the most unlikely characters ever to comprise a rock group get drawn into pretending to be one and change their group dynamics in the process. Stuck between a 'Rock!' and a hard-up place – you'd be surprised how far people will go to save a local museum!
Performances will take place in October on Friday 18th, Saturday 19th, Sunday 20th matinee, Sunday 20th evening and then Wednesday 23rd, Thursday 24th and Friday 25th.
Booking is now open and tickets can be purchased via our Booking Details page by clicking here.