The Dam Play DVD
A professionally-filmed and edited DVD of the 2009 production is still available.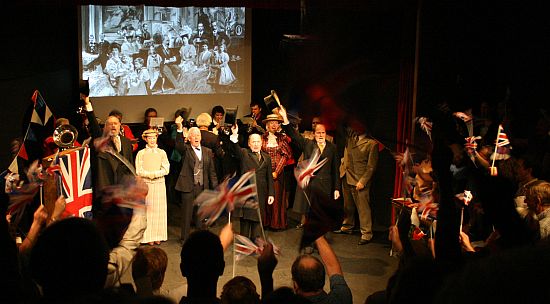 The DVD is a a faithful reproduction of the Stage Play - including audience interaction and the odd fluff! - with excellent colour and sound throughout, and brilliant reproduction of the 150+ period photographs used in the performance.


To order by post, please send your details (name, address, telephone number, e-mail address) together with number of copies required through our Contact Us link and we'll get back to you regarding payment.

DVDs are £7.00 each, plus £1.50 post and packing.

As of March 2013, copies are still available - and we expect them to be available well into the future.

Copies of the DVD are also available at Nidderdale Museum during their normal opening hours (callers only, no mail orders)
---
Feedback for the DVD

"I had trepidations about purchasing a filmed play of a stage production ... but just two minutes into the DVD and all my preconceptions vanished - this is a fine production that works well on the many levels it encompasses .... the quality is excellent ..."
Feedback for the 2009 Stage Show
"A magnificent theatrical experience" ... "the best thing I've ever seen on any stage anywhere!" ... "riveting" ... "enthralling" ... "remarkable" ... "memorable" ... "wonderful" ... "excellent" ... "fantastic" ... "brilliant" ... "joyous" ... "funny, moving and instructive" ... "I was blown away by The Dam Play!"