Twice Upon a Time
Written and Directed by
Keith Burton
At the Pateley Playhouse 19th - 26th May 2018
A new detective drama "Twice Upon a Time" by award-winning Pateley playwright, Keith Burton, had its world premiere at the Playhouse 19 to 26 May.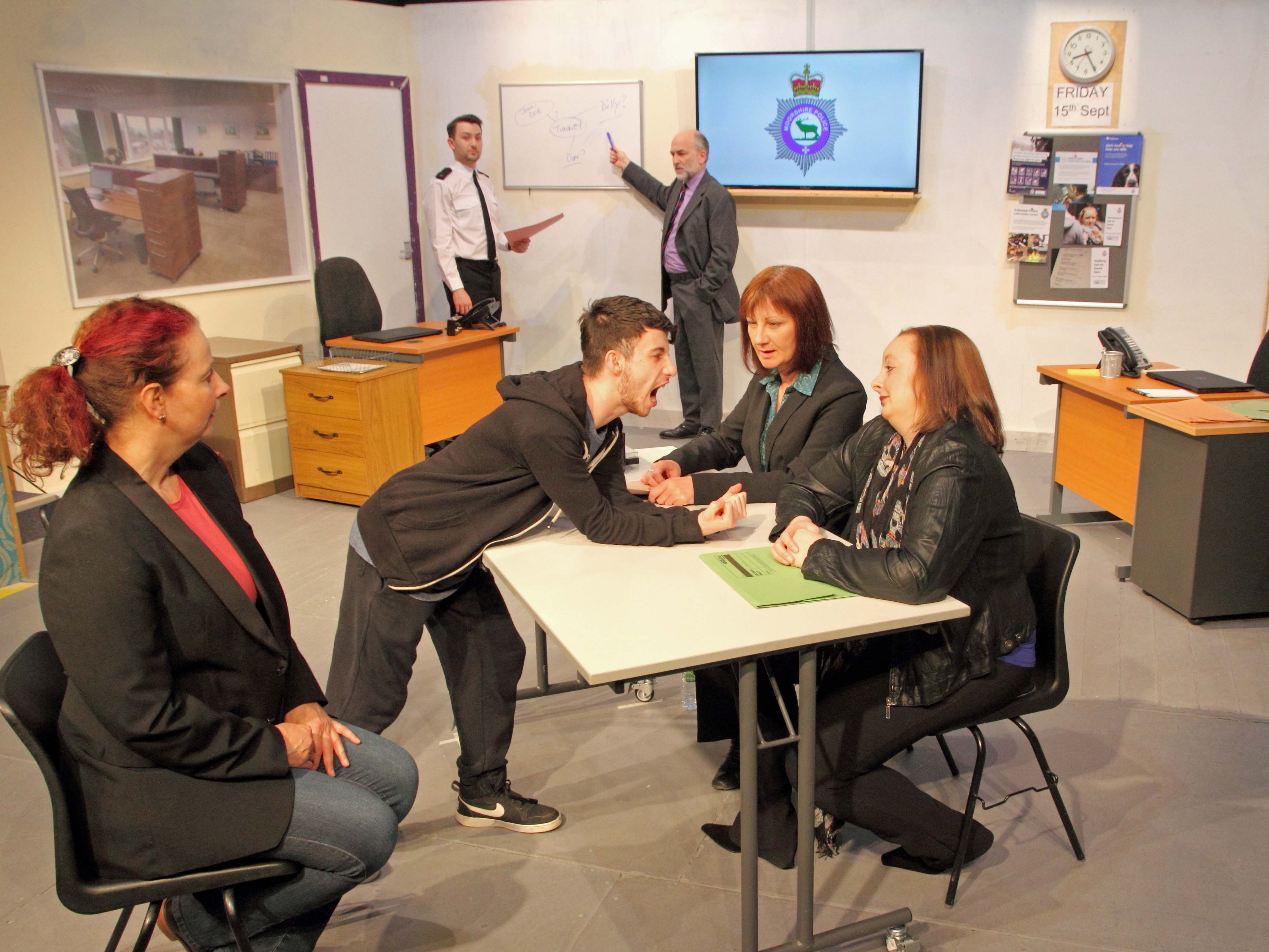 We are familiar with Mr Burton's clever wordplay, imaginative plots, well drawn characters and acerbic one liners from his previous works performed by Pateley Bridge Dramatic Society: "Who'd Have Thought It?", "Selling Up", "Grounds for Divorce" to name a few. Once again there were those recognisable features evident in this innovative drama set in the DCI's office in fictional Moordale CID. This was cryptic, complex and challenging right until the conclusion. Opening with a darkened stage, the sounds of a patient being given CPR in an A&E Department raised the first of many questions and presented us with our first clue….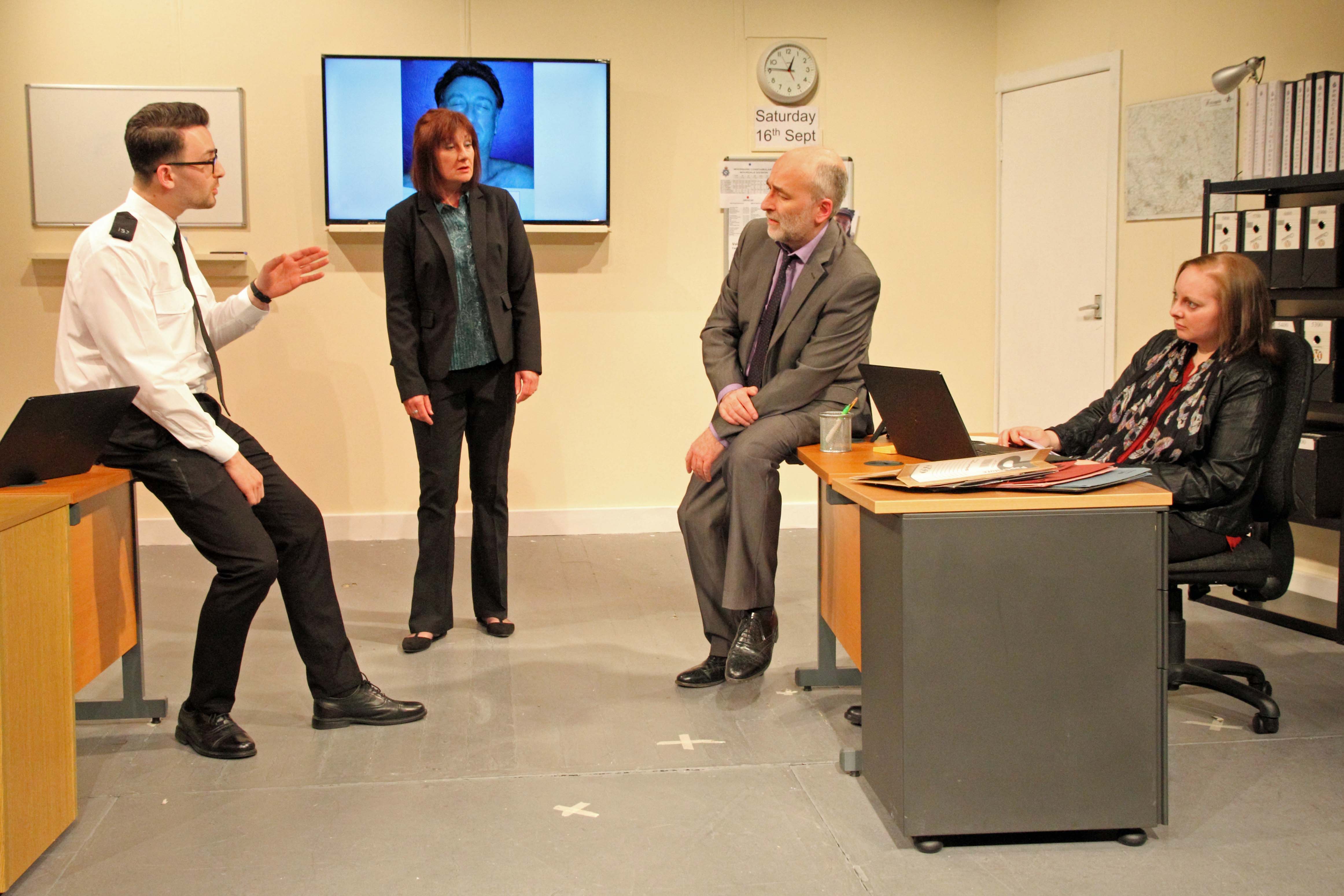 The main action begins on an open set in the office of DCI Ros Jakes. Doors either side of the stage create the illusion of a busy police station with brisk entrances and exits. Noticeboards, files, cabinets alongside the usual office paraphernalia are no surprise. However, the audience could not fail to be impressed by the large television screen across the rear of the set which becomes our visual aid, helping to keep us abreast of the twist and turns of the plot with images of characters and scenes involved in the "mystery" as the action progresses. Sue Hickson manages the sound and audio-visual effects extremely well throughout the evening. The live TV streaming of the action from the stage during the police interview in Act two is a fabulous touch and a definite first for the Society. Never intrusive, the technology helps to order the evidence and remind the audience of key characters – vital in such a complex story.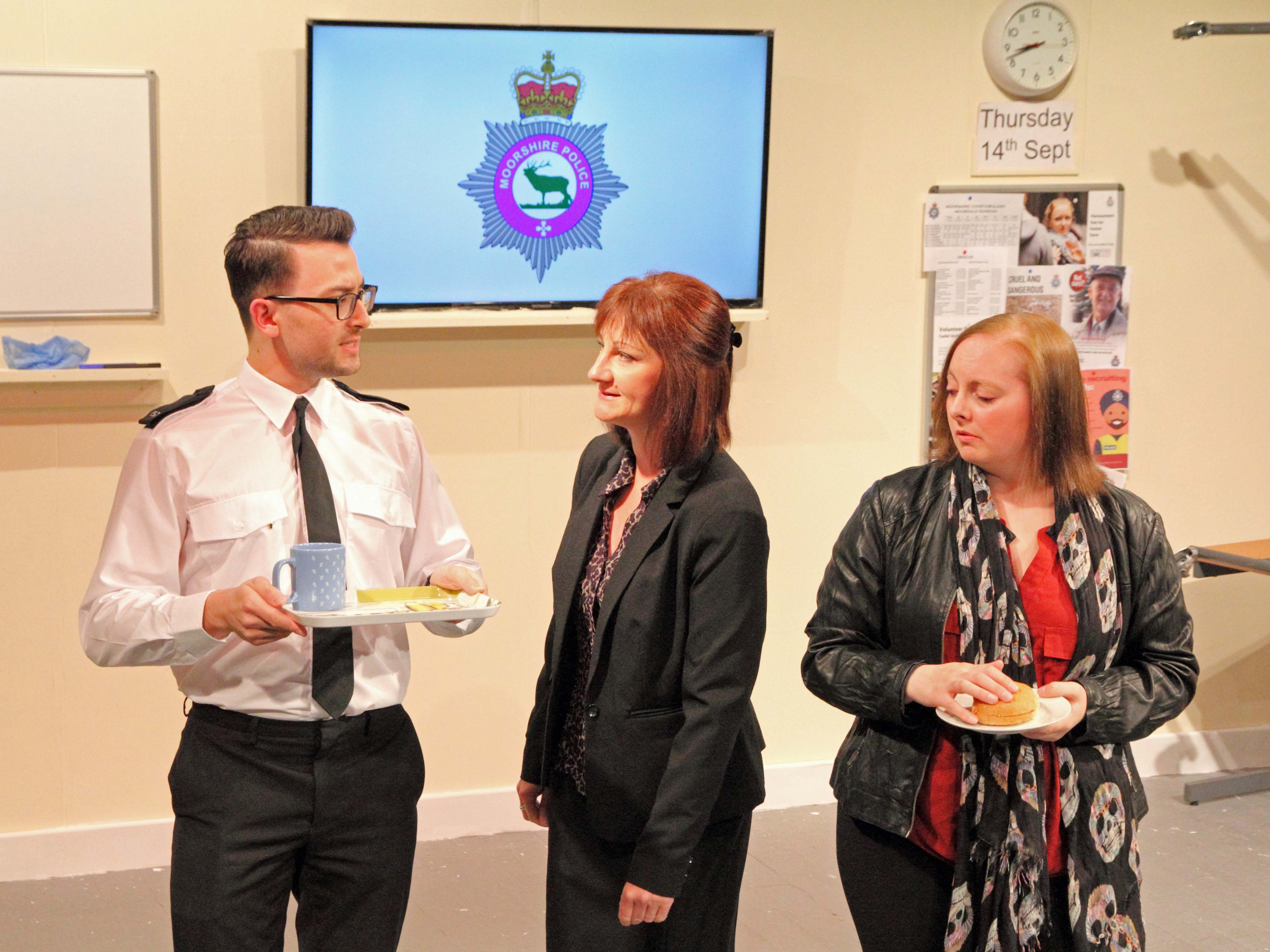 The office scenes take place over three days in September 2017 when Division's best team DCI Ros Jakes and her "about to be ex" husband, DCI Gerald Jakes, investigate a case involving 2 missing persons and then 2 bodies. At the start of each scene in the office, the passage of time is indicated by the use of a spotlight on the calendar and clock which is changed unseen by the efficient backstage team, led by Stage Manager Justin Enthoven. Tessa Lee and Joyce Liggins manage the properties assisted by other members of the backstage team with very smooth set transitions as necessary. Steve Hunt is in charge of the lighting which gives appropriate atmosphere to the action.
The two Detective Inspectors are assisted by DS Jo Madison and the new, posh boy, PC Rufus Brett in their search for missing local "right scroat" Billy Scragg who has disappeared after he was apparently the victim of an initiation prank at the local hospital mortuary where he had just started work as a porter. Of course, nothing is that simple!
We journey with the characters as they try to work out who is really missing, who is actually dead, when did it all happen and more importantly, why did it happen and how? All this puzzling includes a Mossad connection and an impending divorce between the two main characters, liberally sprinkled with cryptic crossword clues.
The police personnel drive the story, bringing the evidence into focus (literally via the screen) and reveal their personalities at the same time. This is what Keith Burton does so well: he creates dimensional characters with whom we can relate on many levels.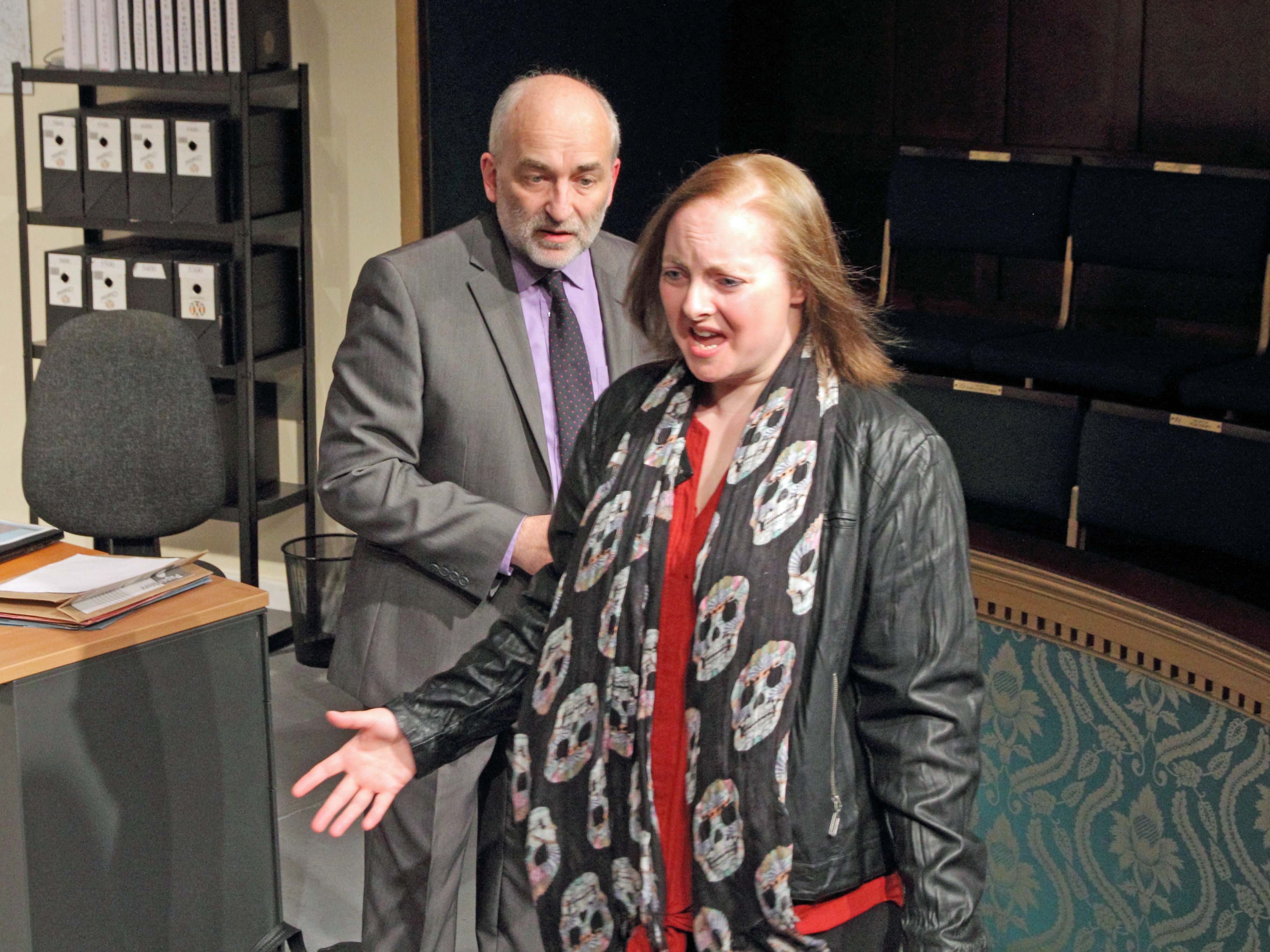 DCI Ros Jakes, played by Heather Appleton, is a brittle Northerner with a fondness for cigarettes and unhealthy sandwiches. Heather ably demonstrates Ros' unorthodox approach to policing and uncompromising attitude to marriage with Gerald: opening his post, taking his precious vinyl records to a charity shop and instigating the removal of his car to the police pound. She is very comfortable moving around her office, owning the space in such a way that we never question her authority. She brings out the character's self-belief most convincingly whilst allowing us to glimpse that inner vulnerability which makes us wonder if she and Gerald may just stay together after all. Her interchanges with her subordinates are especially keenly observed, which is typical of this actress. It is very difficult to believe that Heather Appleton had stepped into the role a mere three weeks ago when the original cast member was taken ill. This is a central part in the play in every sense with so many words to learn and such a complex character to portray. Pateley Bridge Dramatic Society is very fortunate to have such a depth of talent and such dedicated actors.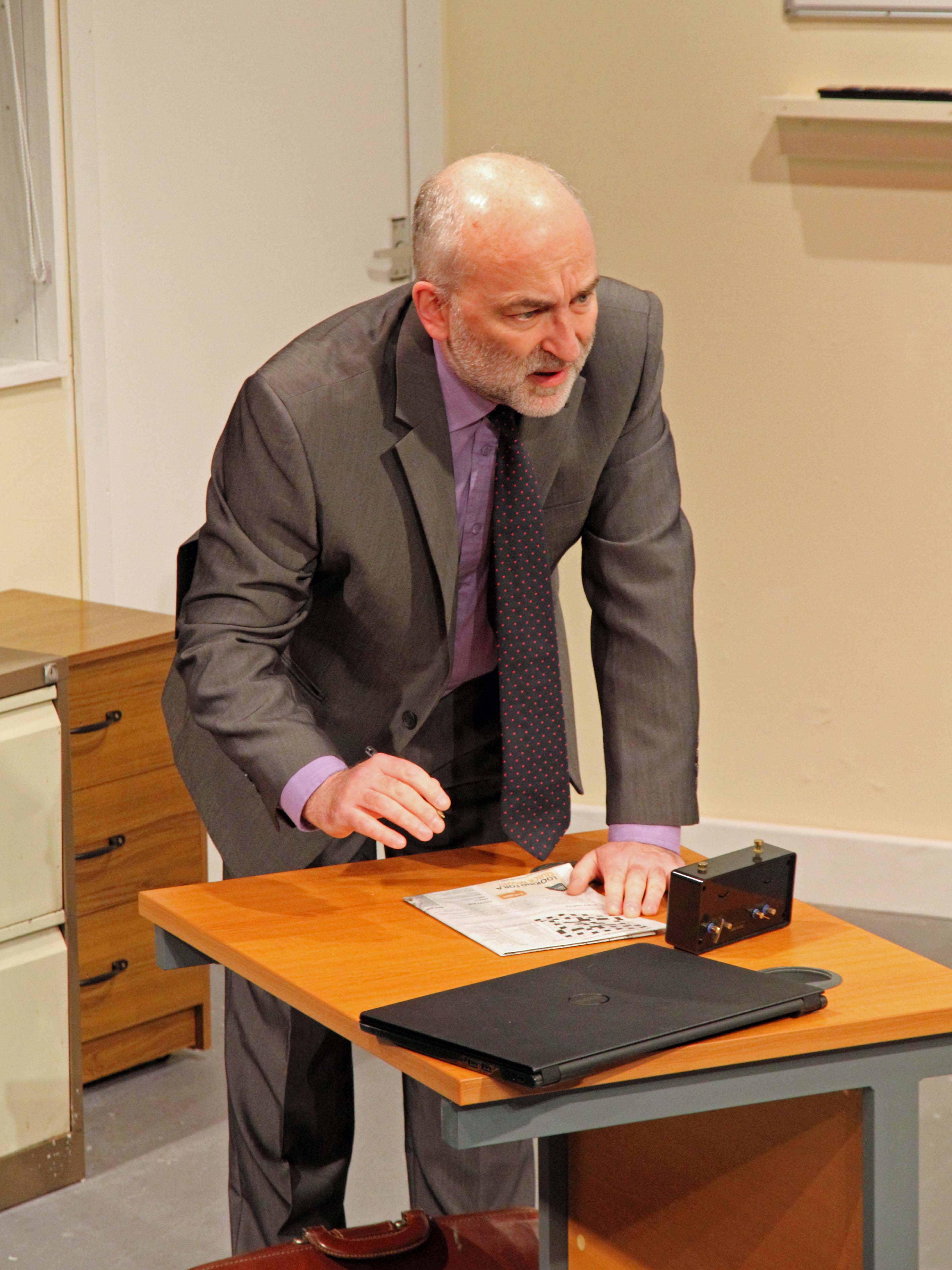 The other DCI Jakes – Gerald – played by Steve Rouse is a very different personality: uptight, pedantic and fastidious. Steve inhabits the character perfectly with his "attention to detail" exhibited through his competitive crossword solving and immaculate scathing taunting of Ros when she lacks his precision of language: "Not 2 times – it's twice!" His timing, facial expressions and total concentration in this role are nothing short of magnificent at times. It is entirely believable that it is Gerald Jakes who ultimately pieces the jigsaw of clues together to solve the mystery.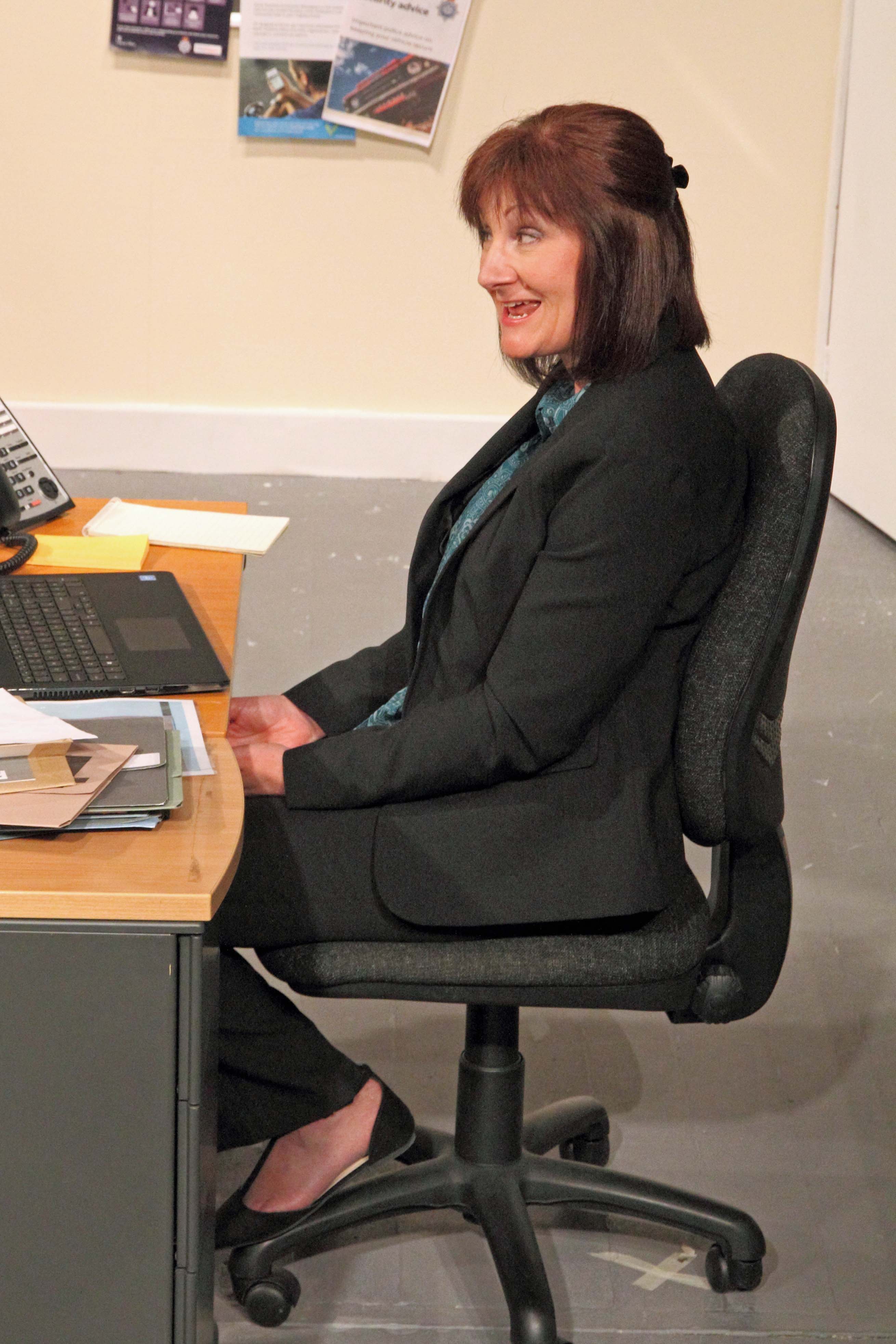 Carol Bailey as DS Jo Madison is just right as the linchpin in the office and as the go-between in the tense relationship of the warring Jakes. This consummate actress handles her dialogue beautifully, helping to smooth tension, point up significant clues whilst at the same time revealing her hidden vulnerabilities as a lonely character who lives through her job. She totally looks and sounds the part of a reliable colleague who has everyone's back whatever the situation. Her concern and gentle initiation for the new PC, Rufus Brett, is in touching contrast to that afforded to the new trainee porter Billy Scragg in the hospital mortuary.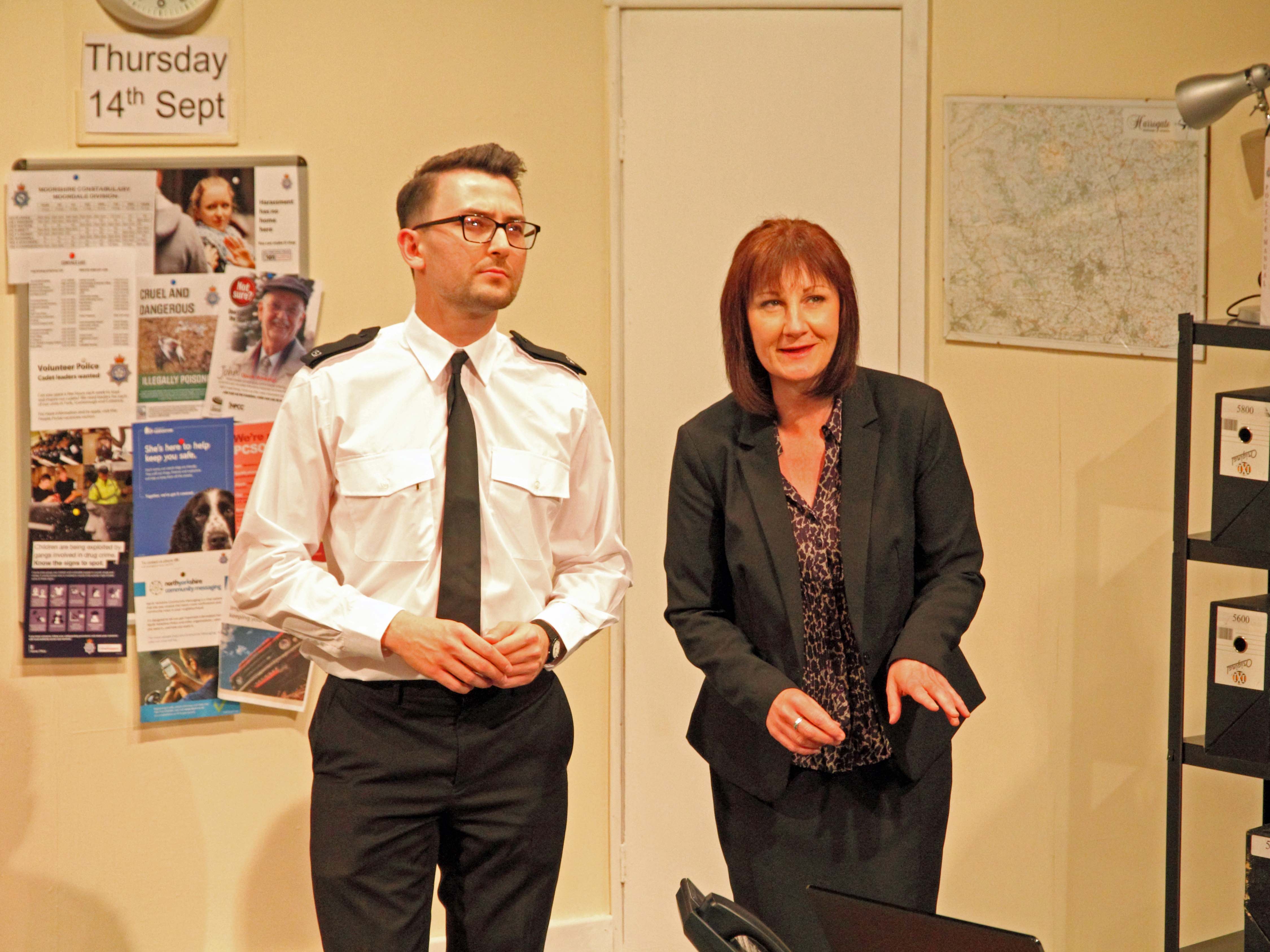 Ben Derrick is delightful as the rookie upper-class PC, Rufus Brett, plunged into the unfamiliar environment of Moordale CID. He is pristine in his uniform, exact in his mannerisms and upright in his bearing. He is endearing in his eagerness to please, glowing under Ros Jakes' praise despite her prejudice against his privileged background then irritatingly obsequious by turn. His family connections with Army Intelligence and Europol ultimately help to solve the puzzle which is very satisfying in that all of the characters have something to contribute to the eventual conclusion.
We were warned that the play contained "strong language" and the character Billy Scragg is convincingly foul mouthed. This is entirely in keeping with his character and Billy Skeet plays him to perfection. He sneers, he lounges, he swears, he glowers, he gestures; he is lewd, insolent and thoroughly truculent. In fact, he is the epitome of an uncouth youth or "a right scroat" according to Ros Jakes. And yet…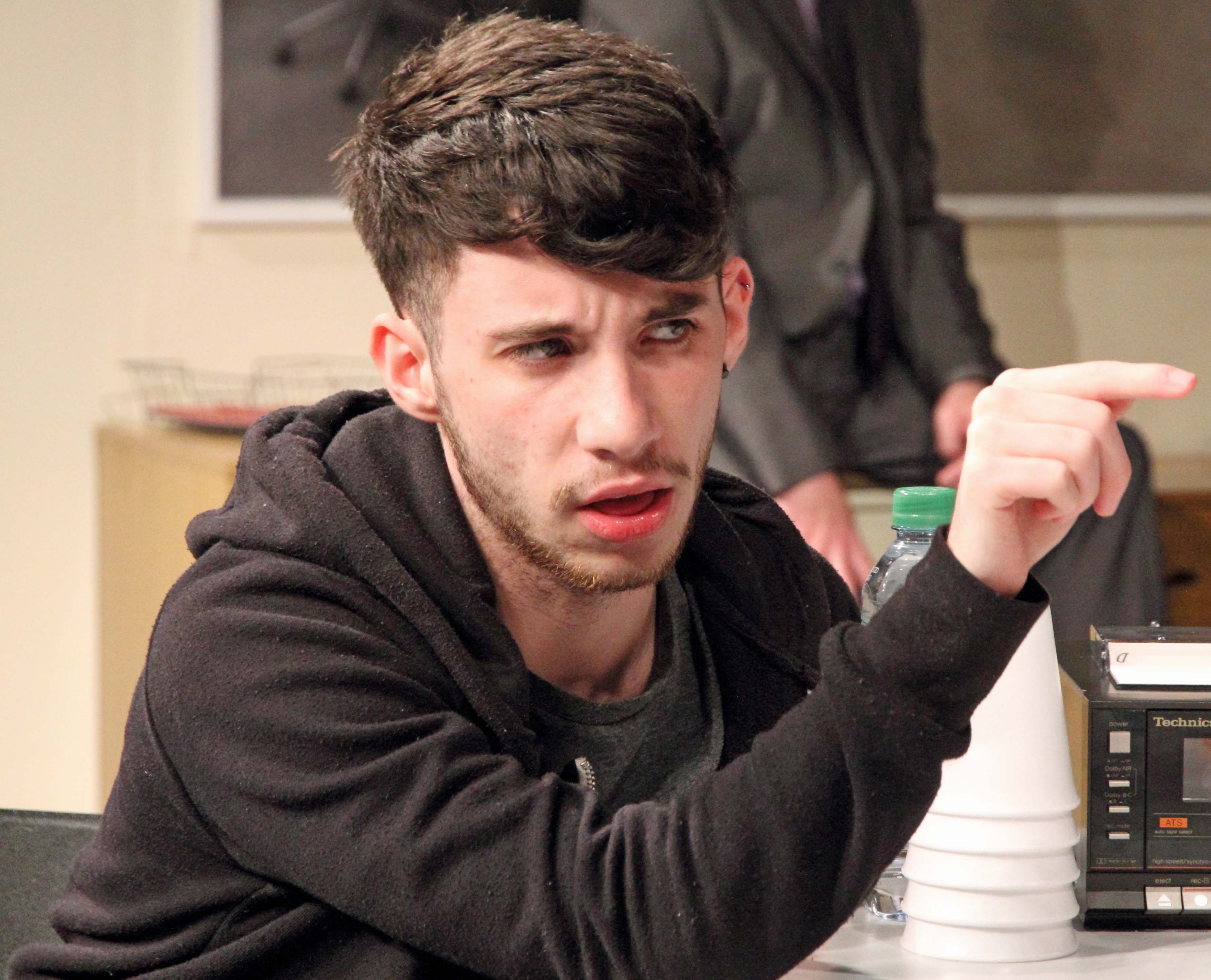 Billy Skeet makes us all dislike this foul mouthed lad lounging with his trainers on the DCI's desk, his short fuse ("as short as his school record") and his uncontrolled angry outbursts. This comes with force from the young actor when he storms off with a climax of indignation. What is so impressive, however, is the vulnerability that he also manages to convey. His revelation that he hadn't actually looked at the body in the mortuary because he was too scared comes from a different place: "I looked away" he says and for that moment, we see a little boy not the "unprincipled youth" and empathise with his not wanting to lose face. It takes real talent to turn the mood in a blink of an eye and manipulate an audience's emotions. Billy Skeet can do that.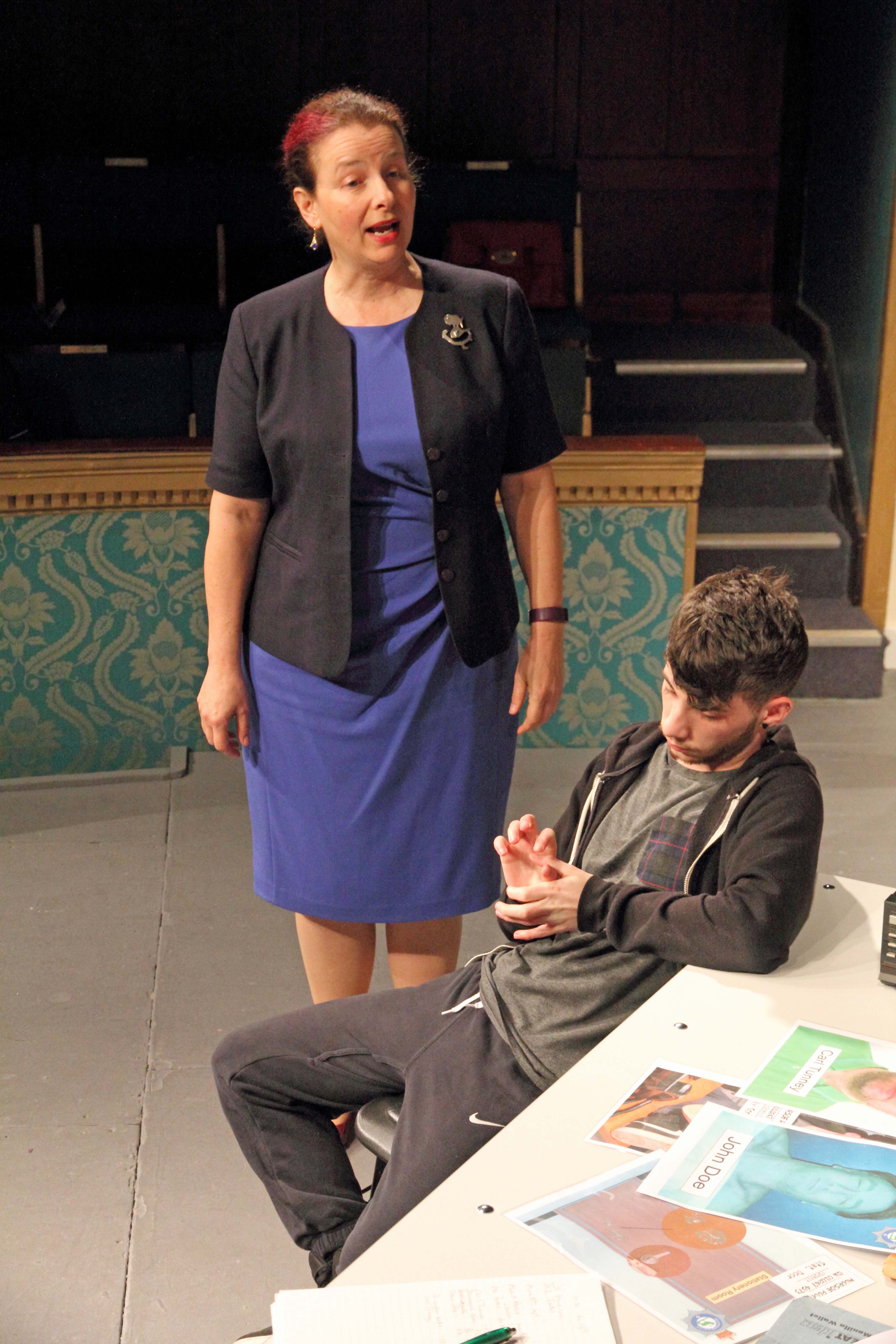 Billy's guardian and biological mother, Maxine Clayton (Debbie Forsyth) just happens to be the Police and Crime Commissioner who is definitely unafraid to exert her considerable influence in order to ensure that her son is exonerated from any blame when the body of a porter turns up after Billy's threatened to kill him. Debbie Forsyth plays the role with that deft touch of entitled authority and confidence which sweeps her into the office without unnecessary introduction. Her posture and diction make a perfect counterpoint to that of the others, especially that of her obnoxious son, Billy. Despite her brisk, uncompromising manner, Debbie manages to bring out the softer, genuine caring mother who is prepared to cross a professional line to prove her son's telling the truth.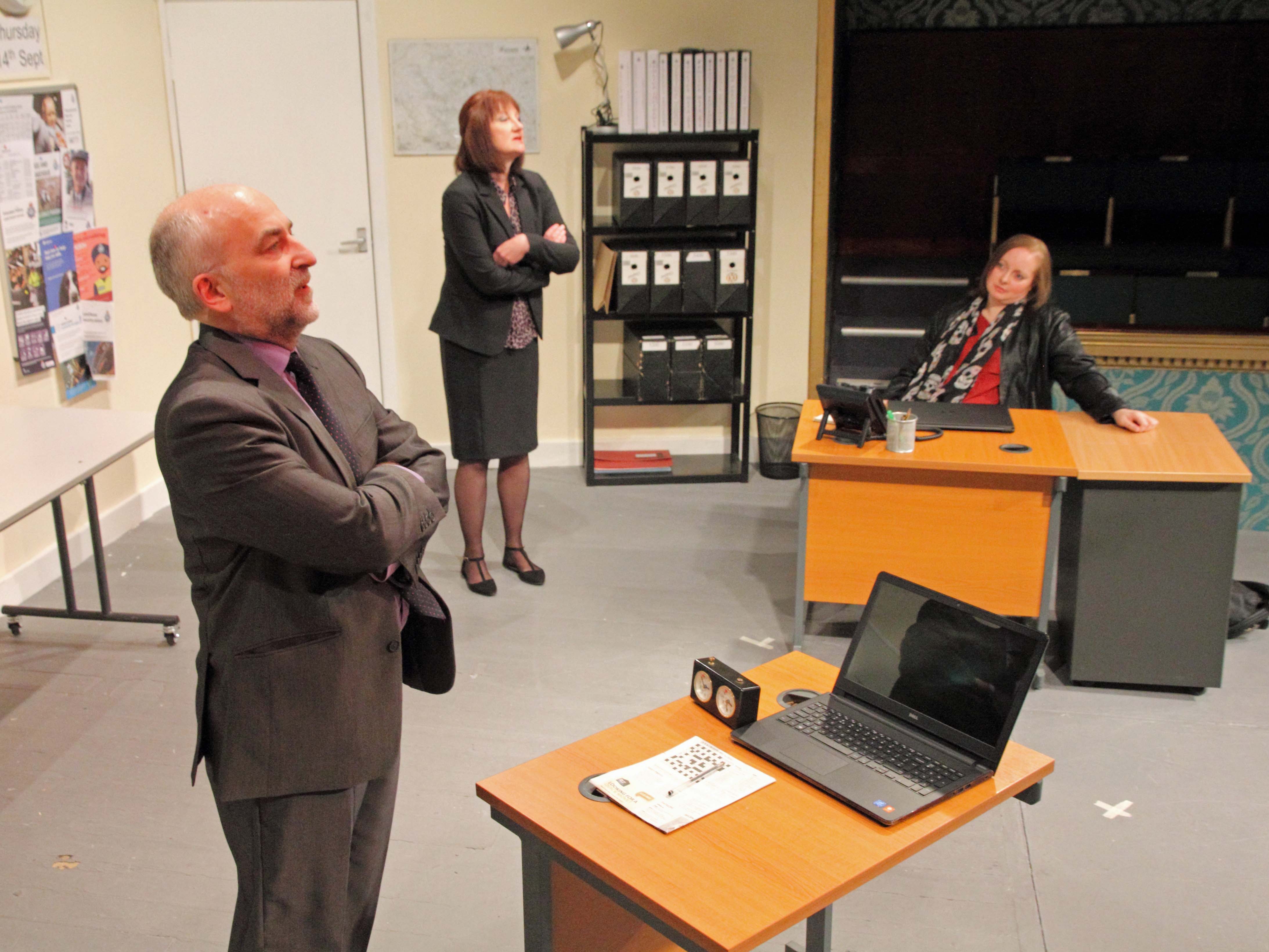 Ruth Dodsworth in charge of wardrobe for this production has ensured that all characters look just right: smart tie and suit for Gerald; "biker" style jacket, boots and odd scarf for unorthodox Ros; dark tracksuit bottoms with hoodie for Billy; smart dress, jacket and swept up hair for Ms Clayton; pristine uniform, recruitment poster style for PC Brett and smart work wear for DS Madison. As with the set, nothing jars: all fits.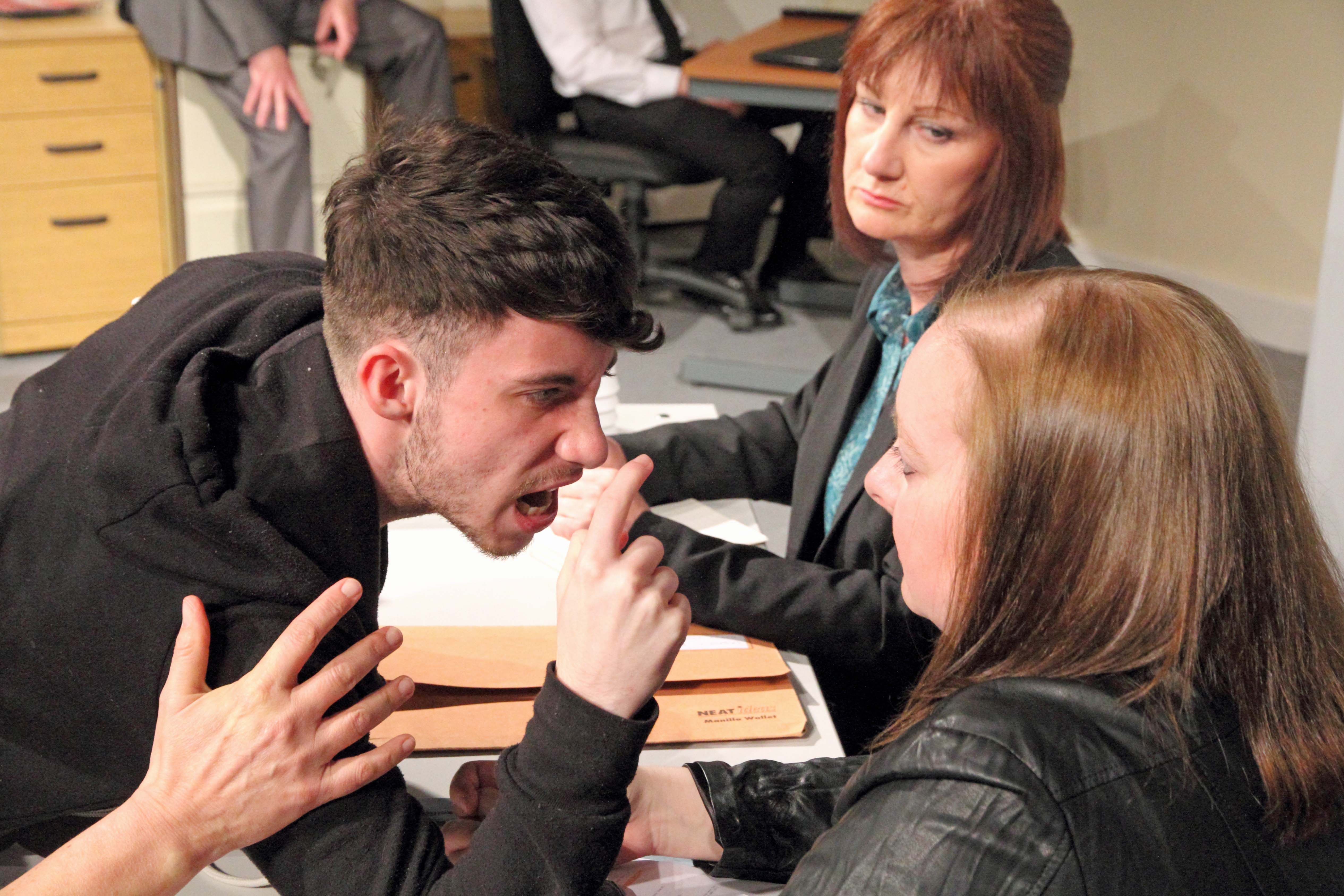 Keith Burton has given us a real challenge with this play. The Playhouse team certainly rose to that challenge with a clean, workable set; innovative use of technology; excellent acting and skilful direction. There was so much to take in throughout the play. At one point Ros Jakes says: "It's important we look at every detail." At times one could imagine you could hear the brain cogs grinding in the audience. After a plot update during the action, Ros says "My head hurts!" The AV screen was a godsend for some to keep up with the twists and turns.
Congratulations to everyone for bringing this new play to the stage with such panache. The greater the challenge, the greater the triumph.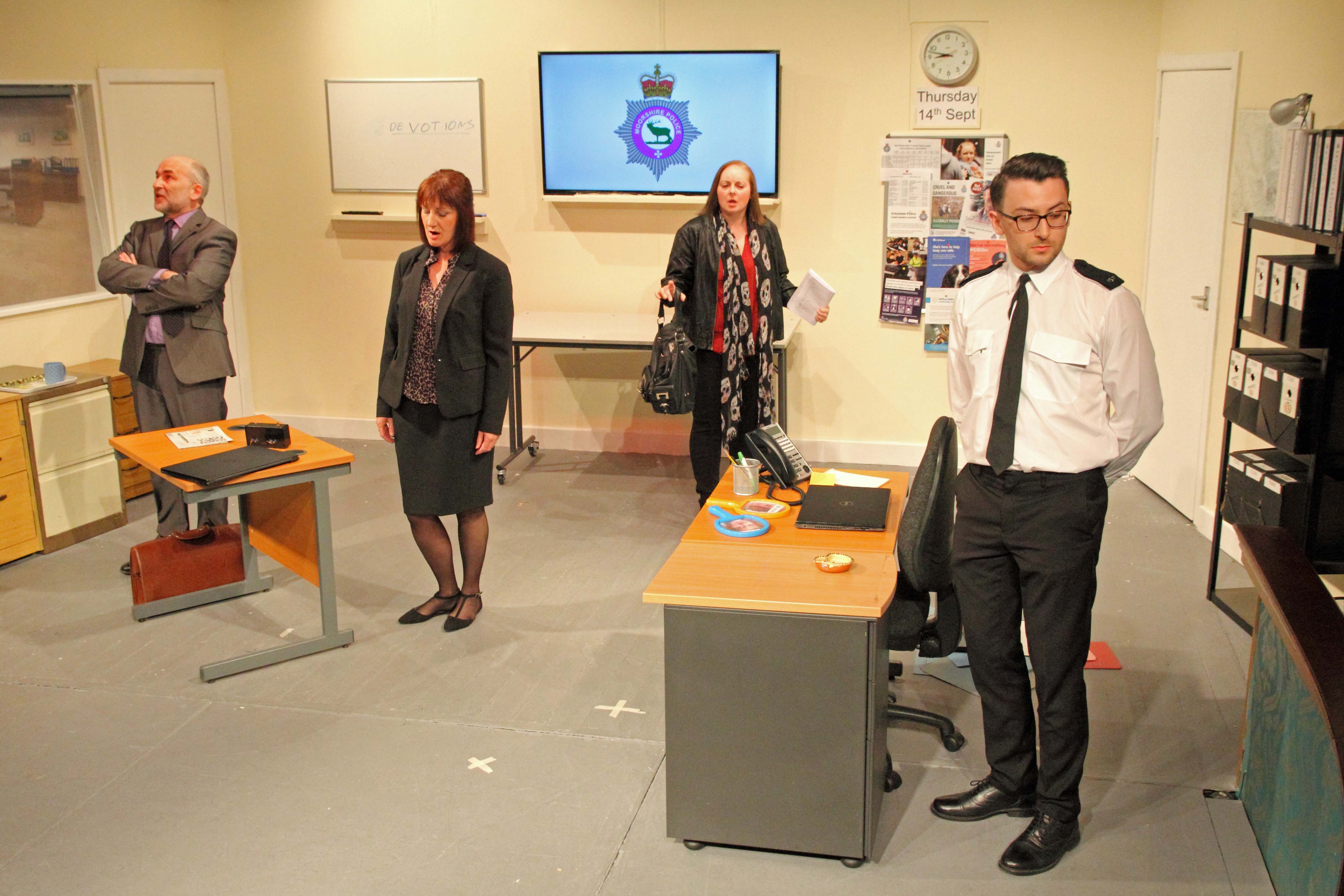 Lily Carver May 2018