Crackers Christmas Crackers
Pateley Juniors
Written and produced by
Christine Grzybowski
At the Playhouse 14th & 15th December 2018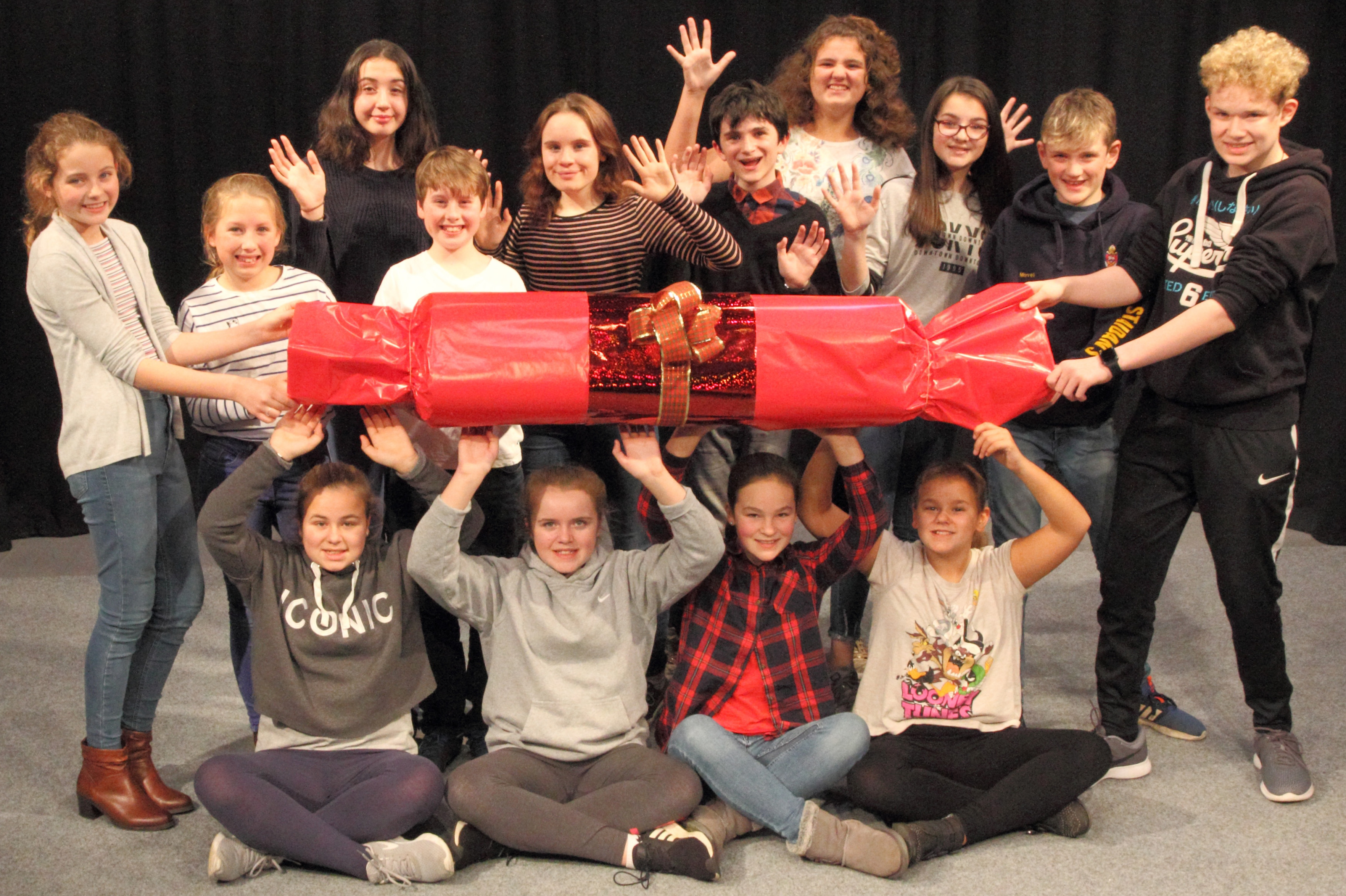 Calamity Christmas at the Pateley Playhouse.
Take fifteen energetic and talented young people, an imaginative writer and producer, a committed and supportive backroom team, and what do you get? "Crackers Christmas Crackers" by the Pateley Bridge Dramatic Society Juniors at the Pateley Playhouse. Under the leadership and guidance of Christine Grzybowsk and Joyce Liggins, assisted by Shona Bostwick and Ruth Dodsworth, we were treated to a humorous slice of Christmas entertainment.
On two consecutive evenings we saw a trio of contemporary sketches, with the fifteen actors taking a total of 39 parts, showing a typical family Christmas(!), Strictly Come Dancing as you have never seen it before, and, to celebrate 70 years of the NHS, a peep inside Casualty.
Anything that could go wrong, did go wrong, and our intrepid young actors did their best to put things right. It was classic comedy farce. Their props were cleverly OTT, with giant syringes, bilious-looking sherry and a very hard-working 2D ambulance along with excellent sound effects provided by Sue Hickson. Great fun!
In the Strictly sequence the six actors taking the parts of the judges and co-hosts were most convincingly characterised, and the dancers themselves were suitably inept. The costumes throughout were excellent, but "Robbie Williams's" tattoos were wonderfully effective.
After the interval, with an eye-catching change of scenery, we were in the realms of word play, poetry, and carols, with really groan-inducing Christmas cracker jokes, delivered with some excellent timing. Soloists introduced the first carols and then we could join in. Two talented young musicians, on saxophone and clarinet played two further carols for us, and then it was time for The Twelve Days of Christmas, and what fun that was! Our programmes had been on our seats when we arrived, and now we found out why: on the back of each programme was one of the 12 gifts, and we were asked to stand up each time "our" gift came up. The numbers had been cleverly scattered around the audience and there was much bobbing up and down, with some people having to work very hard!
It was a most enjoyable evening and the talent displayed augurs well for the future of the Pateley Bridge Dramatic Society. Thank you and congratulations to all concerned, especially Mrs.G.
Taking part were: Tegan Lumley, Phoebe Kendall, Hermione Issitt, Jonathan Levy, Eve Greenwood, Bertie Graham-Bell, Sophia Gray, Dan Morrell, Millie Reilly, Daisy Reinsch, Paddy Morrell, Phoebe Bryant, Libby Eddy, Kiera Burton and Edie Graham-Bell.
Andrea Ives.