A CHRISTMAS CAROL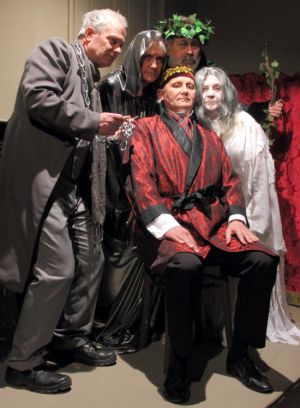 adapted from the

Charles Dickens story

and directed by

Nevin Ward
Nevin added a dozen traditional

Carols and Christmas Songs
and gave us a fresh look at the
well-loved story of Scrooge and
his redemption by the spirits.

Cast & Crew
A DVD of this production is now available.
Priced only £3, the DVD captures all the fun and emotion of the stage production, including the dozen or so wonderful traditional carols and songs.
Postage within the UK is about £1.50; to order, please get in touch via our Contact Us page and we'll get you details of how to order.
"Both the production and the DVD were highly impressive. The musical side worked beautifully, adding much to the mood of the piece; not least because the lyrics were handled so well. Use of the stage, the exits and entrances and the lighting, too, filled us with admiration - we sat through the performance quite captivated."