The Journey
written & directed by

Keith Burton
Nidderdale & District Drama Festival 2013
Frazer Theatre, Knaresborough
15-16 March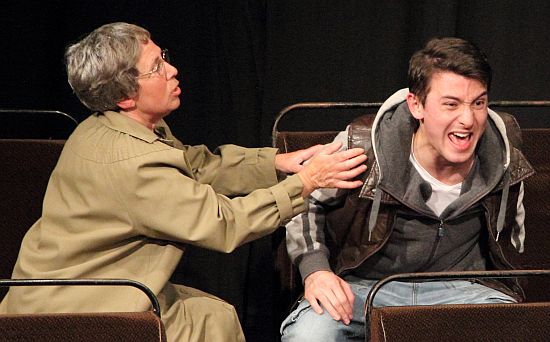 STOP PRESS!
Following the Nidderdale Festival, Keith's script for The Journey was entered into a nationwide competition, coming second overall, with wonderful comments from the competition judges.

See a full report here.
Keith Burton's gripping one-act picked up four awards at this year's festival.
The play came second overall and was voted 'best play' by the audience -
a very telling and welcome award for such a challenging play.
There were also two individual awards - the adjudicator's discretionary award for Ruth Dodsworth's superb performance, and the artistic merit award to Sue Hickson for her atmospheric and effective soundscape.
Ben Derrick was also one of the nominations for Best Actor.
Congratulations to the cast and crew for a wonderful play, superbly presented and supported, and well rewarded for the talent and effort.
Keith Burton

The Garth Rawson Cup

Senior Runners-Up

&

The Betty Clarke Trophy

Audience Award

Ruth Dodsworth

Phil Hickson Memorial Cup

Adjudicator's Award

for Acting

Ben Derrick

Nominated for

Best Actor

Sue Hickson

Michael Wade Memorial Cup

Artistic Originality

for soundtrack
THE JOURNEY Photo by Chris Iredale
Award photos by Nevin Ward