PATELEY BRIDGE DRAMATIC SOCIETY'S 75th CELEBRATIONS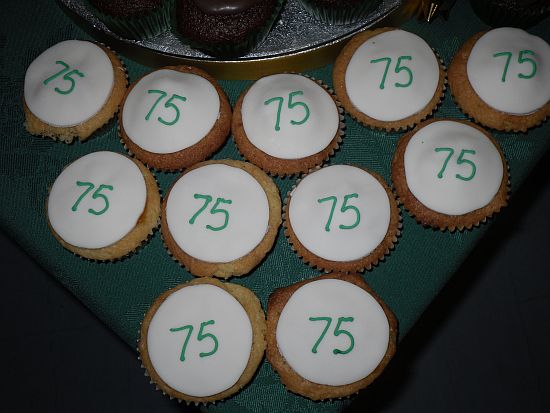 Birthday Buns!
On Saturday September 1 members of Pateley Bridge Dramatic Society gathered to celebrate their organisation's 75th birthday.

A special reception was held at Pateley Bridge Playhouse with around 85 guests, including founder members of the Dramatic Society and the Mayor of Pateley Bridge Coun. Ian Skaife.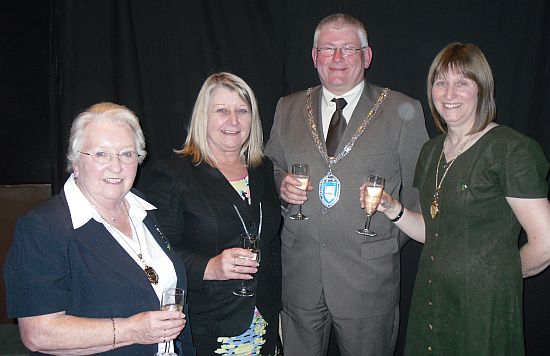 Chair Sheila Smith, Chris Skaife, Ian Skaife, President Joyce Liggins
Guests of honour included Joyce Swires and Joyce Hawkesworth, both 90, who have been members of the society since its beginning in 1937, and 98-year old Jack Burgess, who joined in 1957 and played a big part in moving the group into its own theatre in Pateley Bridge's former Salvation Army hall.

Joyce Swires and Joyce Hawksworth were both junior members of the club before it was officially formed. Plays were put on by an evening class for adults run by a Mr Jones, while junior members rehearsed in the Parish Hall at St Cuthbert's Church under the watchful eye of Mrs Jeffries.

Both ladies and Mr Burgess wrote about their memories of the Society's past and friends read the recollections out at the party.
Joyce Swires, who served as treasurer for 20 years, remembered plays interrupted by missing props, and Joyce Hawkesworth recalled her first part in the Society's first performance of "When We Are Married", a show that has proved so popular the group have performed it three times in total.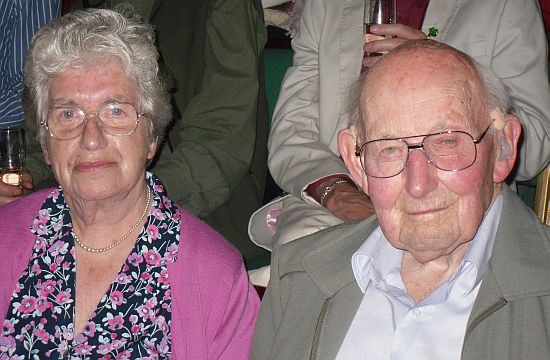 Special Guests Eileen & Jack Burgess
Mr Burgess was a member or Summerbridge Players before he married and moved to Pateley Bridge in 1957.

He directed 44 performances with the Pateley Bridge group, beginning when then Secretary Dick Watson asked him to read a small part in Hobson's Choice. He went to the first rehearsal in the Crown Yard rehearsal room and at the end asked "Who's going to produce this?" "You are!" was the reply from everyone else.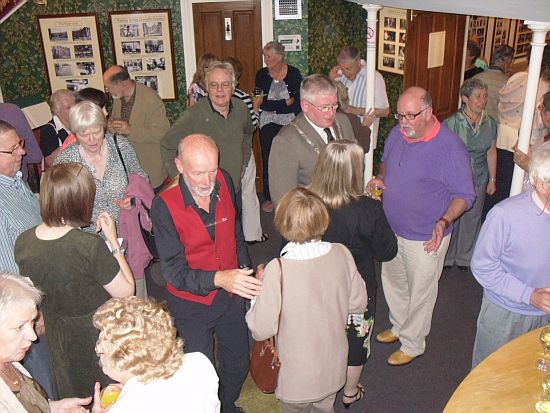 Members & Guests in the foyer
When Mr Burgess first joined the Society, plays were put on in the cinema which they had use of on Mondays and Tuesdays, the quietest nights for films.

But after reading in Amateur Stage magazine about another group converting a chapel into a theatre, Mr Burgess started thinking about finding a permanent home for the Pateley Bridge group.

He immediately thought of the town's Salvation Army hall, and a year later the Dramatic Society bought the hall for £125, less than the demolition value of the stone.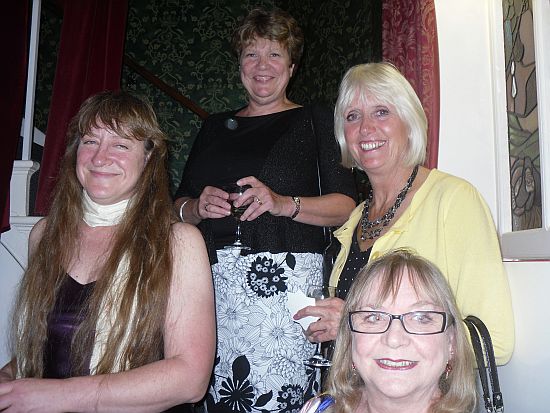 Sharon Matyk, Secretary Linda Harvey, Jo Jefferson & Christine Ward
The Society's members worked for many years to convert the hall into a theatre, doing a lot of the labouring themselves, transforming the hall into the current Playhouse theatre.

Mr Burgess said: "I made lots of friends through my involvement, too many to mention. Many are no longer with us, but their contributions was enormous. Teamwork has always been one of the Society's strengths. Although there were trials and tribulations, my overriding memories are all happy ones".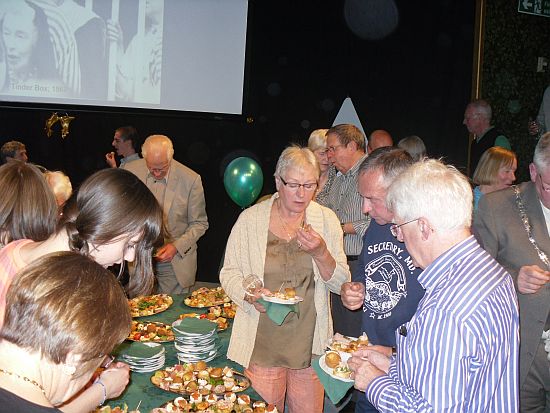 Members & Guests enjoy the excellent canapes
The Society's current president Joyce Liggins also spoke at the celebration and remembered some past members, including Margeurite MacLellan, a popular member who died a year ago. Marguerite's granddaughter Mia, 13, took her first role in the society's pantomime earlier this year, and spoke touchingly of her grandmother's influence on her wish to tread the boards.

As a tribute to Marguerite, her daughter Fiona and grandchildren Mia and Saul unveiled a specially-commissioned clock, which now sits proudly in the bar at the Playhouse.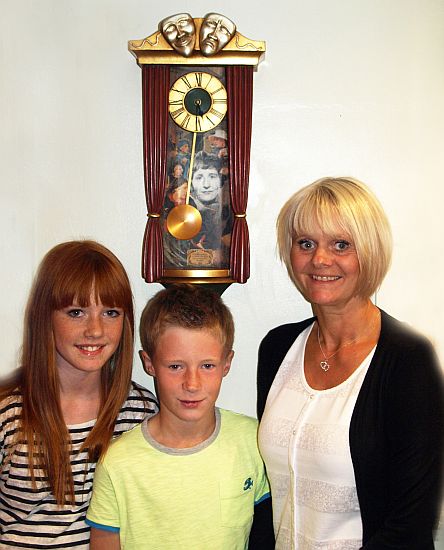 Mia, Saul and Fiona with 'Marguerite's Clock'
To commemorate the 75th anniversary, Joyce Swires and Joyce Hawksworth unveiled an engraved mirror, which is now in the foyer above the booking desk.

Photographs from productions spanning the Society's 75 years played on an overhead screen throughout the evening, and members and guest enjoyed a superb buffet, specially prepared by Geoff Liggins.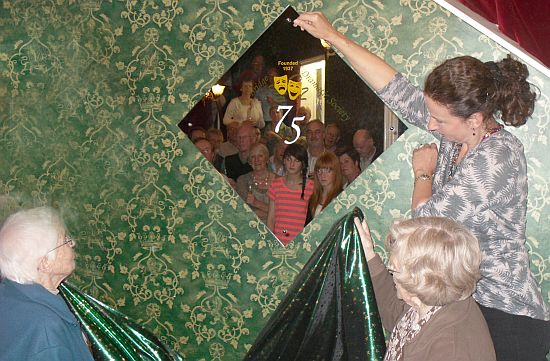 Debbie Forsyth helps Joyce Swires and Joyce Hawksworth to unveil the mirror
Text: Joyce Liggins
Photographs: Jerry Harvey & Geoff Liggins