Charles Nicholson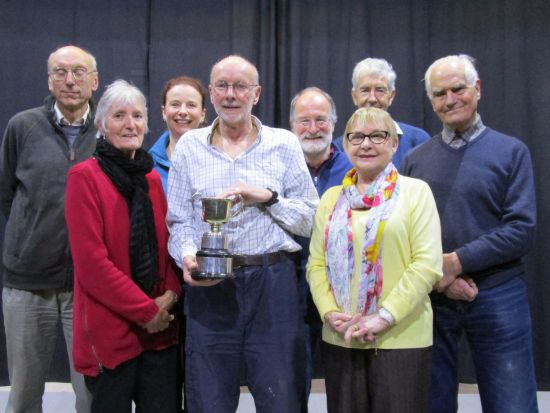 We're very sorry to report the passing of Charles Nicholson (pictured on the right of the photo above), who for many years painted scenery as part of our backstage crew, most notably the wonderfully intricate scenes for our pantos.
Stage Manager Stan Appleton paid this tribute to Charles:
It was always hard to believe Charles' chronological age because he was until recently as agile as most of us in the backstage team.
When we last saw him he was looking forward to contributing to our next set build and was disappointed to hear that WHTI wouldn't call for one of his famous set-pieces.
He was as keen on the activity of creating his sets as on the finished product and never showed any nostalgia for his work when we needed to strip it down for the next production.
We all learned a lot from Charles, not just the techniques of paint and perspective.
He could be strong-minded and very focussed on his personal contribution to PBDS but also generous as in his keenness to share his knowledge and skills with Justin or to help with other necessary Tuesday morning jobs.
It was obvious that he really valued his place in the backstage team and the welcoming social side of our weekly gathering.
Charles had a very full life with so many activities and interests that we were only just learning about.
We shall really miss him from our team.
Two more photographs of Charles and his wonderful scenes are reproducted below.